Here we go, my friends! Fantasy dates are under way!
Kaitlyn has the first fantasy date in Bali. They have a normal day, just walking around the village, having monkeys climb all over Chris.
Check out Katilyn's face-- she looks like she was abducted by aliens
Chris asks Kaitlyn if she would like to spend the night in the fantasy suite, and she of course jumps at that chance. She says she is falling in love with Chris,
and he says he's falling in love with her, too!
Say what? Is he allowed to say that? Is it over? Is he picking her? Ugh!
Other than that, the date was pretty uneventful.
Whitney has the next fantasy date. They go on a private yacht, which is much more my idea of an awesome date. She says she's head over heels in love with Chris, and he doesn't say it back, which makes me very nervous (he says it later in an interview, so I forgive him. Slightly).
Whitney is the only girl of the three who has never seen Arlington, and she's the only girl who has a "real"career. Chris is definitely pretty nervous about it, but Whitney says, yeah, she has a career, but she really just wants to move to Arlington and makes a bunch of farmer babies.
Pre-fantasy suite smootches
Whitney is also invited into the fantasy suite, and she also accepts. "Check, please!" Whitney wants to get some!
Becca has the final fantasy date. Becca, the virgin. She is super nervous about telling him
, especially when some Bali medicine man said they should go make love.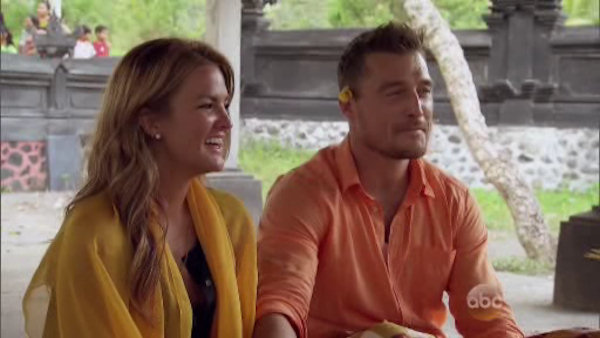 Becca's face after speaking to the medicine man. Awkward!
Becca is honest with Chris. She says that she's never been in love with anyone, but she might be falling in love with him. She's scared about moving to Arlington, but she would be willing to take that change if it was right.
And he says he's falling in love with her!
What the heck? He's falling in love with all three of them? Is he playing them all? Is he just trying to get some? Pick a girl and stick with her!
Becca admits that she's a virgin, and he is as ok as a guy can possibly be when he realizes that he's not going to get to get funky with the gorgeous Becca. She still spends the night with him, but when they wake up in the morning, they have some kind of mystery conversation that we didn't get to see. Chris says he's falling in love with Becca, but they're conversation left him in confusion. Becca is also the only one who voiced serious doubts about living in Arlington.
Chris says he feels really strongly about one rose, but he doesn't know about the other one. He is clearly confused.
The rose ceremony is at a sacred temple, where there are dress codes and rules about affection. And then, before it even starts, Chris asked Becca to step away with him. I'm still not entirely sure what their conversation was about, but it's clear that Chris really has genuine feelings for her.
Meanwhile, the two remaining girls are doing backflips because they think that Chris MUST be sending Becca home. I think they both died a little inside when they saw Chris and Becca walking back together, hand in hand.
I'm sure that Kaitlyn knew the second Chris called Whitney's name that she would be the one to leave. I mean, Chris wasn't to take Becca aside for 30 minutes and then bring her back again just to send her home. Still, I am surprised. Kaitlyn wants to know what went wrong, and Chris can't even explain it, he just needs to follow his heart.
Who is he going to pick???? It can't be Becca.... can it? The girl we know nothing about it? Will it be Whitney? The career girl? I just don't know! And will either girl make it to a wedding? I can't wait to find out!
The Women Tell All is next week! Stay tuned for all that juicy drama!