Join the party with Kenzie and Scriptor!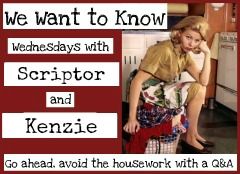 1. Dinner and a movie: what do you eat and what kind of movie do you watch?
We typically go to a nice chain--BJ's, Outback, Elephant Bar, etc. Movies are tougher, because I don't want to see anything too scary or violent, and he wants to see a movie with lots of special effects. Hence, we don't go to the movies very often. I think the last movie I saw in the theater was Life of Pi, but we are talking about going to see the new Hunger Games movie this weekend.
2. Name your favorite actor and actress.
I'm not sure I could narrow it down to just one. I like Tom Hanks, Vince Vaughn, and Joaquin Phoenix. For actresses I like Sandra Bullock and Jennifer Aniston.
3. Will you watch any old Christmas movie or do you stick to the classics?
Not every Christmas movie is a good Christmas movie, but I will watch Christmas Vacation, The Santa Clause, Elf, A Christmas Story, or It's a Wonderful Life.
4. What is your favorite holiday movie?
I like the funny ones.... Elf is pretty dang good.
5. Tell us one holiday tradition you have.
I don't know... We decorate a tree every year, we bake cookies for Santa every year, we go to my dad's house for Christmas dinner every year... That's about it. Something that we haven't been consistent about doing buy I want to start if drive around to see all the houses that at lit up. Do you have a Christmas Tree Lane or equivalent where you live? We had one in the town I grew up in, but I can't find one in the town I live in now. Is there a website I could go to to find out?