Welcome back to The Bachelorette!
Let's get right to the dates. The formula is the same as it's always been: 2 group dates, and a one on one. Yawn.
a group date with I think Luke, Grant, Will, Evan, Daniel, Vinny, Ali, James (There are 3 so I'm not sure which one) Wells, and Robbie: "Let's heat things up."
As soon as the date card is read, the guys hear an explosion and they all run out to see a limo on fire. The guys just stand there like dumb asses... no one even got a fire extinguisher or anything. And isn't one of them an actual fire fighter? Lame.
So, Jojo comes up in a fire truck and puts out the fire, looking way hotter than any fire fighter I've ever seen, and then fthe guys pile in to her fire truck and they drive away to some kind of training center. The guys have to suit up, and then perform a bunch of fire fighting tasks.
(one guy actually said that he hadn't held a hose that big since he was back home in his apartment. Oh, no he didn't!)
For Grant, the actual fire fighter, this is just another day. But for poor Wells, the radio dj, this was a big deal, and poor guy dang near passed out. The reward for this, of course, is that Jojo spends some extra time with him: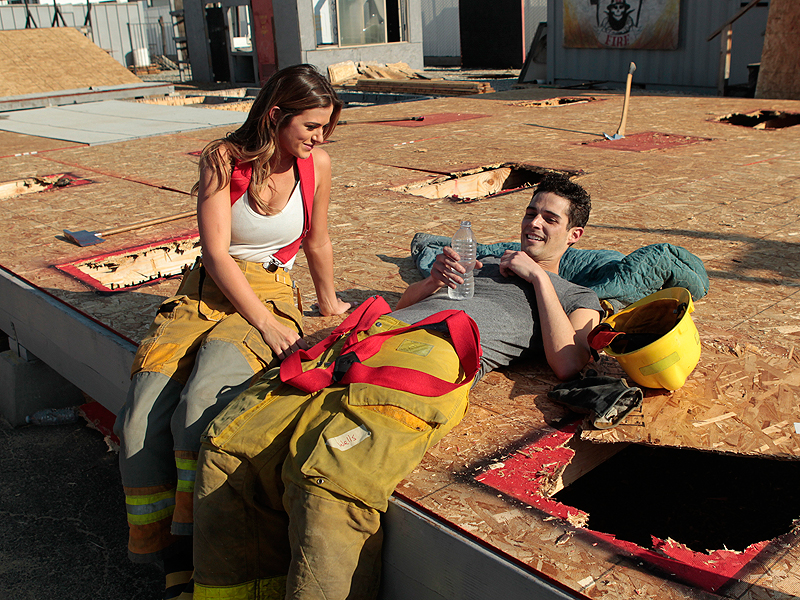 Jojo to the rescue
Meanwhile, back at the mansion the guys are writing a song to sing to Jojo (led by the guy that wants to be a country singer). But super jerk Chad (or maybe Alex?) isn't interested. You know he's going to be the guy we love to hate.
OK, back to firefighting; Luke, Grant (no surprise), and Wells are in the top three. They have to climb to the top of a building and "save" Jojo. Wells was pretty much done from the start, so he was no contender. But Luke gave Grant some serious competition! How embarrassing would have been to have someone else be a better fireman than an actual fireman?
No worries. Grant wins. He's pretty stinkin' hot. His reward is the first one on one time with Jojo. He spends his time kissing her. His kisses are sweet and gentle, and so hot.
Have Mercy
Wells spends the next time with Jojo. He's funny and personable and he shows her pictures. No kisses.
Then there's a bunch of other one on ones that must not have been that interesting, since they spent 10 seconds total on all of them.
And then Jojo spends time with Luke, and they kiss on the rooftop.
(This from The Agent: "Does she at least brush her teeth in between guys?")
Wells received the group date-- a pity rose.
Don't worry Grant and Luke-- you're safe.
Derek: "Love is full of choices." I don't remember Derek at all, so clearly he's not that memorable. The date is filled with choices: sky or sea, north or south, etc. Their choices lead them to a picnic with a view of the Golden Gate bridge. It was a pretty cute idea that I don't think we've ever seen before. Thank you for that, Bachelor Nation.
Derek gets a little serious during the evening portion of the date (as he should), and says that he's had trouble opening up after his ex girlfriend cheated on him. Jojo can relate, since the last guy she fell in love was dating 27 other girls at the same time.
Derek gets the rose.
Jordan, Christian, Nick, Another James, Alex, and Chad: "Prove your love to me... and the nation." This means that three guys didn't get any date at all: The third James (I think the super fan) and two other guys.
The guys and Jojo go to the ESPN studios to play "Bachelor Nation." This is lame. I'm not feeling it at all. These dates should not be funny. Jojo needs a husband, not a comedian.... and certainly not a guy who wants to make it big while singing (I'm looking at you, Other James).
And she can't throw a football
The most telling thing about the date is that Chad is for sure a jerk.... but good Lord. She likes it. Ugh. I hate jerks.
The top three guys were Alex, Chad, and James, with James in the number 1 spot. These guys don't get anything special, but Jojo has said she will take take these (lame, bogus) thoughts into consideration.
Singing James gets the first one on one time with Jojo. He wrote her a note telling her his feelings, and it made Jojo tear up. They kiss, but I don't love it. He kisses way too loud.
Chad's one on one time drove me CRAZY! Don't pretend to not be a jerk! With your yorkie-maltese (read-- a really small dog) and your mom is your best friend but she just died 6 months ago story. Ugh!
They kiss.... and Chad admits off camera that he's starting to have feelings for her.
Singing James gets the rose. Thank goodness for that. But he can't possibly win. Did he start crying during his interview? No way can he be the guy for her.
Chad was waiting outside for Jojo when her limo showed up. He gave her a glass of wine, and walked her inside, while giving her a quick kiss. He might have wanted more, it looked like she pulled back a bit. Interesting.
As much as I don't like Chad, I hate that the other guys are so butt hurt about it. Dude, he was waiting outside for her. Get over it. Don't be jealous that you didn't come up with the idea first.
Chase made it snow.... how did he do that? Did he just talk to the producers and beg them to make it snow?
Winter is Coming
The guys confronted Chad again, because he interrupted Alex's time (and then again with creepy Evan). Have these guys never watched the show? Aren't they SUPPOSED to interrupt each other? I just don't understand why they're getting in their panties in a bunch.
Chad finally loses his temper and lashes out at Alex (the short marine) and they come close to blows. This is what happens when you get too many meat heads in the same room.
Rose recipients:
Wells (group date)
Derek (one on one)
Singing James (group date)
Alex
Christian
Robbie
Luke
Chase
Jordan
Grant
Ali
Daniel
Another James
St. Nick
Vinny
Super Creepy Evan
Chad
This means that the third James (the super fan), and two other guys.
Don't forget that the Bachelorette is on for TWO nights next week! It's going to be crazy!